RGI is looking to the future in designing new drugs, treatment strategies and experimental models. By using genomic approach scientists at RGI are looking for new drug targets that can help us to design novel therapeutic compounds and biologics. At present RGI is engaged in developing new therapeutic proteins, using recombinant technology, that are expected to to boost the immune system to attack cancer cells and induce apoptotic cell death.
One of our most significant research programs involve developing systems that will decrease the research community's use of animal models. In order to replace animals in the laboratory, we must find ways that are as good or better than using animals. Scientists cannot afford to give up animal testing without scientifically validated replacements, they must be offered alternatives that are better than animal testing.
We are exploring the use of cells cultured in the laboratory as substitutes for animals. To do this, we are employing rotating wall vessels originally developed by NASA to study the effects of free fall on various cell populations. We are growing human cancer cells in these free fall environments so that they develop into small tumors that are very similar to tumors that grow in people. We are incorporating several different cell types in these small laboratory-grown cancers so that they look and behave like real cancers. In addition to the cancer cells, we are culturing fibroblasts that act as the support structure for the tumors and venous epithelial cells that are present in the blood vessels within tumors. Each of these different cell types has been genetically engineered to contain molecules that allow them to be visualized and quantified. We can monitor these cell types during the course of an experiment by employing our state of the art imaging system. Using this system we can monitor which cell types are growing and expanding and which cell types are dying. We can then use these laboratory-grown cancers to test drugs, study tumor development and find the best ways to kill only the cancer cells and not the normal cells in the body. These laboratory-grown cancers are less expensive, easier to evaluate and generate relevant results more quickly than using animals.

Laboratory grown lung tumors glowing with Green Fluorescent Protein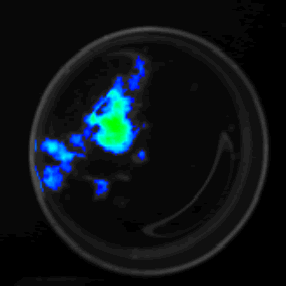 Laboratory grown breast cancers glowing with Red Fluorescent Protein